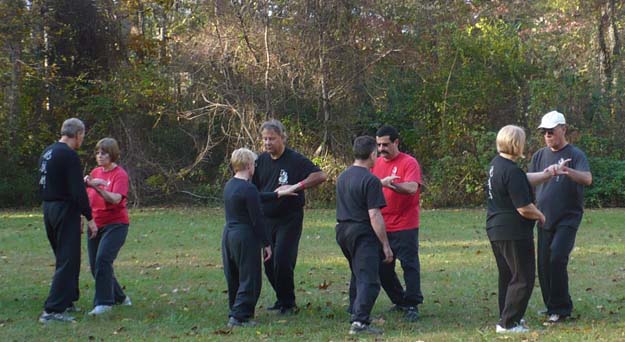 Practicing push hands, an exercise in sensitivity, at a recent mountain retreat.

Berkshire Tai Chi (The Hall of the Soaring Eagle) is a traditional school. Sifu David Crowe and Sifu Kathy Crowe, with 18 years experience, are fully certified lineage tai chi and qi gong instructors under the Kuoshu Federation of the Republic of China. They trained under Master Eric Sbarge, a member of the United States Martial Arts Hall of Fame, at The Hall of the Peaceful Dragon In Charlotte, NC. They also studied with Masters such as Master Guolin, the next abbot of Shaolin Temple in China, and Master Park Bok-Nam, renowned authority on Pa Kua (Ba Gua).
This lineage background is rare in tai chi classes. All too often students learn to copy moves without learning the essential principles and deeper philosophy that make these movements and postures so effective for health and well-being. (Our lineage, including sister schools.)
Sifus Kathy and David opened Berkshire Tai Chi (The Hall of the Soaring Eagle) 7 years ago when they moved to the Berkshires. Because they have seen the profound change tai chi has made in their own lives, they are dedicated and enthusiastic about passing on these profound insights. They also know first hand the challenges students can face learning a whole new way of moving and thinking. This gives them real understanding of their students, so that each is treated as an individual and coached to work at his or her own level. Those who are looking for a hard physical workout can find those challenges as well.
"David and Kathy each have a great sense of humor, so their classes are a combination of workout, history lesson, mindfulness/meditation, and not taking yourself too seriously." ––Anna Vordermark, Marketing Communications Manager
Outside teaching tai chi, Sifus David and Kathy lead busy and creative lives. Sifu David is a composer and teaching artist, whose works have been performed across the country. Read more and hear samples of his music at www.DavidCroweMusic.com.
Sifu Kathy is a web and graphic designer, including the design of books, exhibits, and logos. You can see samples of her work at www.KathyCrowe.com.