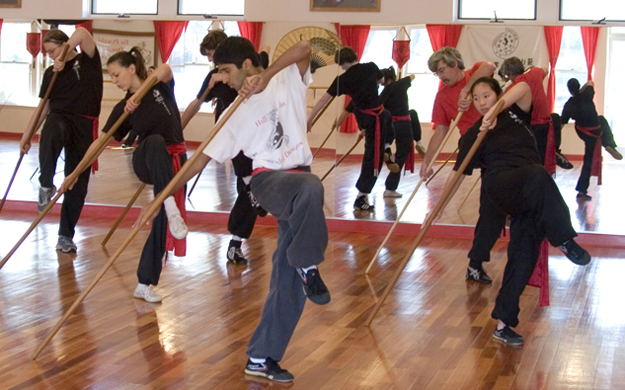 The Shaolin staff form.

Sifu Kathy and Sifu David are excellent and encouraging Tai Chi teachers. David is gentle and kind and Kathy has such positive energy. Their classes are always highly popular with both new and senior students. They know how to make learning fun and how to help students celebrate accomplishments, large and small. They have so much to offer to anyone with a desire to learn Tai Chi.
—Ann Houston Staples, Health Educator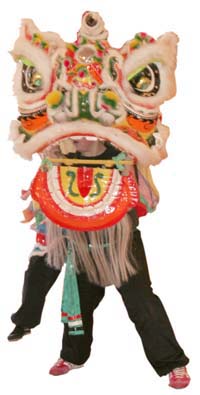 It has been a privilege and an honor to take tai chi classes with Sifu Kathy and Sifu David. Every class includes insights, modifications if needed and gentle pushes to move outside of my comfort zone. Both Sifu David and Sifu Kathy are more than qualified to teach the martial art of tai chi chuan. However it takes a special instructor to really make you look forward to every work-out, no matter how physically or mentally difficult. With humor, grace and skill, the Crowes will lead the beginner to become more advanced and the advanced student to attain a much higher level than they believed possible.
—Dale Saufley, Design and Sales
In the decade I spent training with Sifu Kathy and Sifu David, I came to appreciate the kind, peaceful, loving nature they always brought to class. The Crowes have a great depth of experience and wisdom in the arts of tai chi, yoga, and meditation. Anyone who decides to learn from Sifu Kathy and Sifu David has picked a wonderful pair of teachers who will truly help them find their inner peace, become proficient practitioners of the internal arts, and really learn to enjoy life to its fullest.
—Natalia Hill, Computer Programmer
Both Sifu Kathy and Sifu David Crowe are not only very knowledgeable in tai chi and all that it has to offer but are the most wonderful people. They both have a lot to offer to students in the teachings of the trilogy of mind, body and spirit. One would truly benefit from becoming a student of theirs.
—David Block, Vice President of Sales
Tai Chi works. I dropped 30 points off my cholesterol in 3 months with only minor diet adjustments. Low impact is also important when you suffer joint pain. Tai Chi just plain works.
I have found Sifu Kathy and Sifu David exceptional in making the material easy to understand. Each of them brings their own talent to the arts. However, what makes them special is their patience and kindness. I do believe that I learn more under their instruction because they give a little more one-on-one time and tweak the basics.
—Ted Abbott
Sifu David and Sifu Kathy are both extremely talented and committed to their arts, but the reason they are great teachers is that their approach is always, "This is important BECAUSE..." Instead of saying, "This is how it's done – just memorize the steps." They take an approach that teaches even the newest beginners how to relate simple hand movements and foot positions to their ancient origins. Sifu David and Sifu Kathy each have a great sense of humor, so their classes are a great combination of workout, history lesson, mindfulness/meditation, and not taking yourself too seriously. If you want instructors who will help you become better martial artists and better humans, I believe the Crowes are your best choice.
—Anna Vordermark, Marketing Communications Manager
It has been such a pleasure to study with both Sifu Kathy and Sifu David. While their teaching styles differ from one another, they are also quite complimentary. I look forward to each class I have with them knowing I'll not only practice the old and apply the new, but I'll have some fun in the process!
—Lise, Erickson Turner, Analyst, Joint Carrier Testing
Sifu David and Sifu Kathy are both extremely qualified and competent instructors who give a great deal of themselves to their students. I highly recommend them.
—Richard G Price, Principal EHS Professional