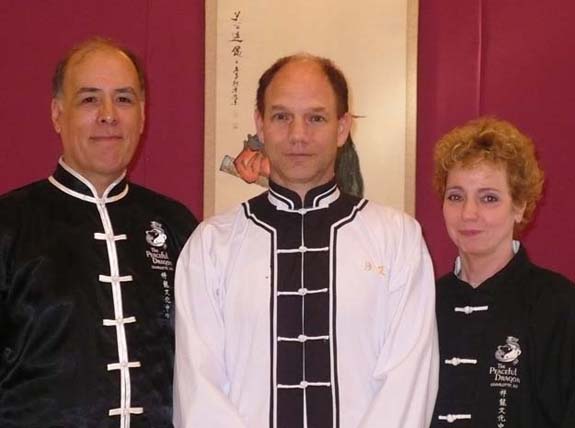 Sifu David Crowe and Sifu Kathy Crowe flank their teacher, Master Eric Sbarge

Our Heritage
As certified tai chi teachers, Sifu David Crowe and Sifu Kathy Crowe are dedicated to helping those who wish to pursue a better way of life through the cultivation of the mind, body, and spirit.
Master Eric Sbarge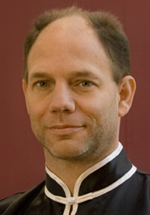 Master Eric Sbarge, member of the United States Martial Arts Hall of Fame.
Master Sbarge, founder and head instructor of The Peaceful Dragon in Charlotte, NC, has over 35 years of training in traditional martial arts, qigong, yoga and meditation.
He is expert in several methods of Taoist and Chan meditation, yoga, and qigong for health and self-development. In 2001 he was honored to be promoted to Master Level martial arts instructor.
Master Sbarge was inducted into the United States Martial Arts Hall of Fame as Oustanding Kung Fu Master in 2005.
Master Sbarge has published dozens of articles on martial arts and related topics in such leading magazines as Black Belt and Inside Kung Fu, and he has assisted in the production of numerous books and videos on tai chi and Chinese martial arts. He competed in open martial arts tournaments for many years in New York and frequently took first place at the advanced black belt level in forms, fighting and weapons divisions.
Master Sbarge holds B.A. and M.A. degrees in economics and media studies, and is a certified secondary school teacher with a concentration in Asian culture and history. Master Sbarge complements his genuine expertise in the arts he teaches with equal expertise in teaching, communicating and motivating students to achieve their highest potential.
Sifu Kathy Crowe and Sifu David Crowe
Sifus Kathy and David have had the privilege and joy of studying under Master Eric Sbarge for over 20 years, teaching under his supervision for over 5 years. They are honored to bring this tradition to the Berkshire Mountains of Massachusetts, and pass on the arts to the students of Berkshire Tai Chi.
Affiliated Schools
This Family Tree (pdf) shows all the teachers and students that hold The Peaceful Dragon lineage.
If you're looking for a school in your area, these are our sister schools: