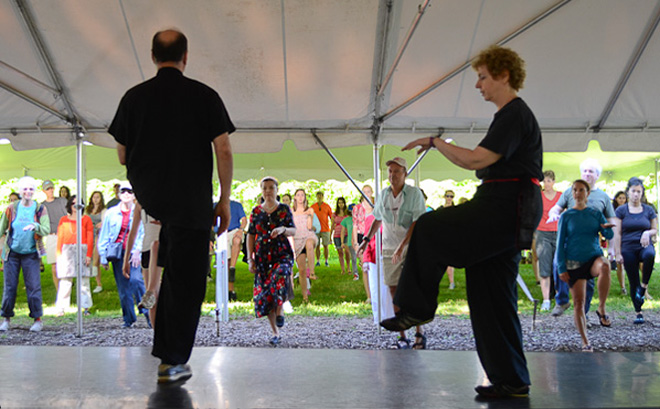 Sifu David Crowe and Sifu Kathy Crowe lead a workshop at Jacob's Pillow Community Day;
photo by Cherylynn Tsushima, courtesy of Jacob's Pllow Dance.
Cultivate your mind, body and spirit when you join our authentic and traditional
school for Tai Chi and Qi Gong and discover how...
You can enjoy Great Health, Energy and Peace of Mind!
A word from Kathy and David Crowe, Founders and Instructors at Berkshire Tai Chi
If we told you that you could learn a beautiful, fun, relaxing, and enjoyable form of exercise that can dramatically improve your life, would you be interested?
Imagine what your life will be like when you can:
Manage stress
Improve health and fitness
Lose weight
Improve mental clarity and focus
Reduce negative thought patterns
Help alleviate chronic ailments
Decrease pain and inflammation

Improve flexibility, coordination and balance
Increase vitality and energy
Have a more positive outlook
Interact with friendly, interesting, positive people
Have fun!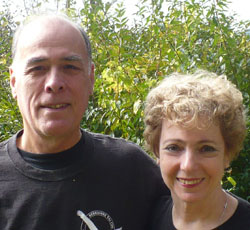 Sifu David Crowe and Sifu Kathy Crowe are certified instructors in tai chi and qi gong. Each student gets their personal attention and care.
We know you can achieve all that and more by taking Tai Chi at Berkshire Tai Chi because we have seen literally hundreds of students achieve these goals!
It might be hard to believe that by simply learning and practicing Tai Chi and Qi Gong (chi kung) you can find harmony of mind, body, and spirit for greater balance in life. You may have tried exercise classes, or yoga, or meditation classes, and still felt something was missing.
That's how it was for us as well. Then we had the great good fortune to find The Peaceful Dragon, in Charlotte, NC, where we trained under Master Eric Sbarge for over 13 years. From the first day, we knew this is what we had been looking for.
Now we live in the beautiful Berkshire Mountains of western Massachusetts, and we can carry on the tradition of teaching a complete mind, body and spirit development program, including stress reduction, relaxation, optimal health and well-being, improved fitness, weight control, greater self-awareness, better balance and coordination, true peace of mind, and greater spiritual cultivation.
What you'll find at Berkshire Tai Chi
We Teach Authentic, Traditional Tai Chi.
You will be glad you chose a school that offers Tai Chi and Qi Gong, plus Push Hands, Zen Meditation, Shaolin Yoga, and more.
We Help You Attain Your Goals.
Our first step is to understand your goals so that we can help you accomplish them. Whether you're looking for general health and wellness, or more energy, or a way to deal with chronic illness, or even to develop martial arts skills, we can help.
We Are Lineage Certified Instructors.
We have studied Tai Chi and martial arts for over 13 years, and taught for over 5. We have had the good fortune to study in the direct lineage to some of the most respected Masters alive today.
"Anyone who decides to learn from Kathy and David has picked a wonderful pair of teachers who will truly help them find inner peace, become proficient practitioners of the internal arts, and really learn to enjoy life to it's fullest." ––Natalia Hill, Computer Programmer
A longer life maybe...a better life absolutely
Classes at Berkshire Tai Chi may very well increase your longevity, but their real value lies in how they increase your wellness and enjoyment of life right now. We don't know whether or not we'll be here tomorrow, so the important question is, "Do we feel healthy, energetic, secure, positive and content right now?"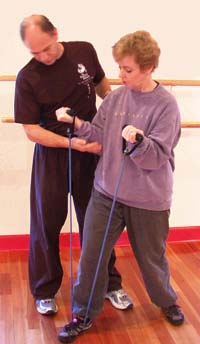 Master Eric Sbarge gives Sifu Kathy a tip on using the stretch bands.
When you study at Berkshire Tai Chi you will gradually learn how to find a greater state of Mindfulness—the state of being tuned in to and appreciative of each moment.
Learning how to maximize your well-being and really enjoy each moment in life will change every aspect of your daily life. You will notice it and so will your friends and family.
At Berkshire Tai Chi you'll not only learn the physical side of each art, but also how to make healthy lifestyle choices that complement your training. We'll talk about nutrition, sleep habits, time management, exercise routines, reducing bad habits, associating with positive and optimistic people, being attuned to nature's cycles, learning to be mindful of the moment, and many other factors that can have a big impact on daily life.
"It has been a privilege and an honor to take classes with Kathy and David. With humor, grace and skill, the Crowes will lead the beginner to become more advanced - the advanced student to attain a much higher level than they believed possible. "
––Dale Saufley, Design and Sales
Bring a friend or family member
One of the very best ways to get started is to go to class with someone. Any friend or family member that you think might be interested in coming with you to learn about Tai Chi and Qi Gong is welcome.
Classes are held at Berkshire Pulse in Housatonic, and are ongoing. So whether you live or work in Great Barrington, Lenox, Lee, Sheffield, Housatonic, Monterey, Pittsfield, Otis, Alford, Egremont, New Marlborough, Sandisfield, West Stockbridge, Stockbridge, Becket, or Tyringham, you're only a short trip away from an exciting new life.
We look forward to meeting you and teaching you some Tai Chi so that you can truly appreciate the wonderful benefits it has to offer you.
Sincerely,
Sifu Kathy Crowe
Sifu David Crowe
Directors and Instructors
Berkshire Tai Chi / The Soaring Eagle
P.S.—There are always a thousand reasons to put off the truly important things in life—but never any good reasons! The best thing you can do for yourself and for those you care about is to be healthy and happy. Don't wait another day!